Tuesday 08 Apr 2008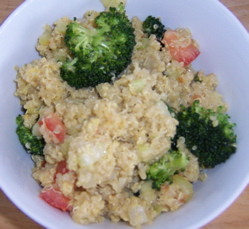 This half-cooked / half-raw concoction has become a favorite of ours during these mild early spring days. It's super high in those hard-to-get nutrients: Vitamin B-12 from the nutritional yeast, and omega-3s from the flax oil.
1 cup quinoa (before cooking)
1/4 onion, chopped
2 stalks celery, chopped
2 cups broccoli, chopped
1 tomato, chopped
1/4 cup flax oil
1 Tbsp Bragg Liquid Aminos
4 Tbsp nutritional yeast (or more!)
splash of water
sea salt to taste
Add the quinoa to 2 cups water. Bring to a boil. Add in onions and celery, cover, reduce heat to low and simmer for 20 minutes.
Mix together flax oil, Bragg Liquid Aminos, and nutritional yeast. Add just a splash of water at a time to thin the mixture, until it is a mustard-like consistency.
Pour "cheesy" sauce over the broccoli and tomatoes to soften the broccoli while you wait for the quinoa to finish cooking.
When all the water is absorbed into the quinoa, remove from heat, and mix all ingredients together well.
Add salt to taste.
Makes 2-3 servings.
3 Comments Posted by Diana | Category: Recipes
3 Responses to "Quinoa and broccoli with "cheesy" sauce"



Great site! Your aunt mentioned your blog on my blog…and here I am! I'll have to try this recipe soon — I bought some nutritional yeast on a whim a few weeks back, but haven't had a recipe to use it! BTW I host a vegetarian challenge on my blog one time each month — this site would be a great resource, so I'll be sure to find a way to mention you! I really like the way that you are organized — very simple, clean and easy to follow!

#

Diana

on 01 May 2008 at 10:30 am




Thanks, Green Me – I hope you enjoy the recipe! I'll be sure to check out your vegetarian challenges. That sounds like fun. So glad you enjoyed foodscout!




[...] Quinoa and broccoli with "cheesy" sauce is an ultimate veggie meal. Quinoa is the only plant food that can claim to be a complete protein, while the nutritional yeast is packed with Vitamin B12! Even if this recipe doesn't wet your whistle, you should surf the foodscout for great nutritional and health info, as well as, many other tasty vegetarian recipes. [...]
Leave your Comment