Tuesday 12 Feb 2008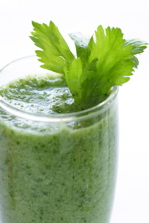 When looking up the USDA values for different foods, several options for serving size were available for us to use. We tried to choose serving sizes that align with how much of that type of food the average health-conscious person eats in one sitting.
Leafy greens, such as lettuce, spinach, kale, etc., is an exception to this rule. Most people, including those who eat a healthy diet, do not eat nearly enough greens. Even a big salad only contains 2 or 3 leaves. It may seem like a lot when it is cut up into small pieces and tossed with other veggies and dressing, but it really isn't.
If we were to set the serving size to what most people actually eat, rather than how much they should eat, you wouldn't be able to see the rich nutritional content that greens have to offer. All of the serving sizes for our leafy greens pages are set at 100g (with corresponding volume estimates in cups), so that the the nutritional values of the different greens can be easily compared.
We are strong advocates of the "Green Smoothie," popularized by raw foodist Victoria Boutenko. Green smoothies are an easy and delicious way to eat all your greens in one meal. We recommend eating a green smoothie every day. Kids love them too!
To make a green smoothie, fill your blender 1/2-way with your favorite fruit and the other 1/2 with greens, and blend. If you are using a regular blender (as compared to a high powered blender like a K-Tec or Vita-Mix) you may want to chop your ingredients up into small pieces before blending. If your smoothie tastes too bitter, add more fruit. Over time, you will likely grow accustomed to the taste of greens and so less fruit will be required.
For more information about green smoothies and some recipes to get you started, check out this nice discussion:
2 Comments Posted by Diana | Category: Frequently Asked Questions, Recipes
2 Responses to "Why are the serving sizes for leafy greens so high?"



[...] Smoothie Fresh From the Garden We've been drinking a green smoothie every day for years. We love eating a light dinner and we love how refreshing and nutritious they [...]




[...] eat TONS of greens, typically in the form of a green smoothie every night for dinner [...]
Leave your Comment