Tomatoes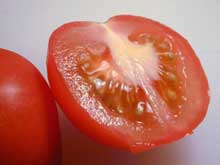 Photo courtesy of http://www.freeimages.co.uk
Tomatoes are now grown world wide, but they are thought to have originated in South America. There are over a thousand varieties of tomato that vary greatly in size, shape, and color.
Choose tomatoes that have a rich, deep color. This will ensure that the tomato is ripe and full of the health-promoting phytonutrient, lycopene. Whole, fresh tomatoes provide more lycopene than tomato products.
As with most foods, it is best to by organic, but this is especially true with tomatoes since according to the Environmental Walking Group, non-organic tomatoes have the 12th highest amount of pesticide residue of 43 of the most common fruits and vegetables.
| | |
| --- | --- |
| Serving size: | 1 tomato, 3-inch diameter |
| Region: | Throughout many parts of the world |
Health Benefits
| | |
| --- | --- |
| Heart | Reduce the risk of cardiovascular disease and lower cholesterol levels, due to the presence of lycopene in conjunction with other phytonutrients. Especially effective for women. |
| Liver | Reduce risk of liver cancer when eaten raw. Reduce inflammation due to hepatitis and cirrhosis. |
| Pancreas | Dramatically reduces the risk of pancreatic cancer. |
| Prostate | Reduce the risk of prostate cancer, especially when eaten in conjunction with broccoli or green tea. |
| Skin | A new study has shown that cooked tomatoes help guard against sunburn, wrinkles, and even skin cancer, by protecting the skin from UV rays. |
Nutrients
| | | | |
| --- | --- | --- | --- |
| Potassium | 404 mg | 11% | |
| Silicon | N/A | N/A | Found in the skin. |
| Vitamin A | 1134 mg | 23% | Extensively studied for their high levels of lycopene, a powerful anti-oxidant and cancer-fighter. Choose whole, organic tomatoes for the highest levels of lycopene. |
| Vitamin B3/Niacin | 1.1 mg | 6% | |
| Vitamin C | 47.3 mg | 79% | |