Kale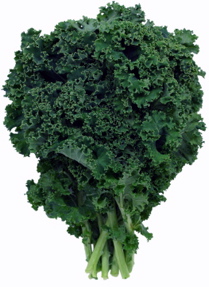 Kale is a cruciferous vegetable, a family that includes Brussels sprouts, broccoli, and cauliflower. These vegetables are known for their powerful cancer-fighting properties.
Several varieties of kale are commonly sold in grocery stores. Curley kale, which can be green or purple, and dinosaur kale (also called lacinato kale) are the most widely available.
Store kale wrapped in a damp paper towel in a plastic bag in the refrigerator. Although it can last for several days, it will become more bitter over time.
See also Leafy Greens.
| | |
| --- | --- |
| Serving size: | 100 g (1-1/2 cups) |
Health Benefits
Nutrients