Spinach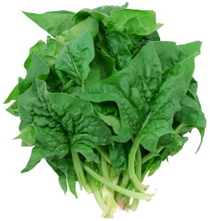 The belief that spinach is exceptionally high in iron is actually based on a mathematical error in the 1800s. Although it is a good source of iron, it will not give consumers super strength as depicted in the old Popeye cartoons.
Avoid wilted or bruised spinach leaves, or those with a slimy film. Spinach stays fresh for up to 5 days if stored loosely packed in a plastic bag in the refrigerator.
See also Leafy Greens.
| | |
| --- | --- |
| Serving size: | 100 g (3-1/3 cups) |
| Region: | China, Europe, the United States |
Health Benefits
| | |
| --- | --- |
| Hydrochloric Acid | Stimulates production of hydrochloric acid in the stomach. |
| Pancreas | Eaten raw or juiced, is healing for the pancreas. |
Nutrients