Endive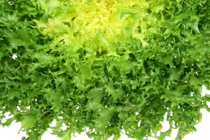 The older, outside green leaves of endive are bitter, while the younger, inner leaves are white and mild. Endive is sometimes grown in the absence of sunlight to produce only white, mild leaves.
The curly-leafed variety of endive is also called frisee. The broad-leafed variety is sometimes called escarole.
See also Leafy Greens.
| | |
| --- | --- |
| Serving size: | 100 g (about 2 cups) |
| Region: | Europe, California |
Health Benefits
| | |
| --- | --- |
| Mood | Helps fight depression. |
| Weight Loss | Contains the amino acids tyrosine and phenylalanine, which help fight food cravings. |
Nutrients