Cherries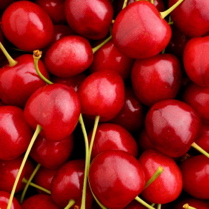 Many studies have been done on the health benefits of cherries, which link them to reductions in heart disease, cancer, diabetes, arthritis, and other conditions. While the different types of cherries share many health benefits and nutritional qualities, tart or sour cherries appear to have greater health benefits and have been the subject of most of the scientific studies on cherries.
As with most foods, it is best to by organic, but this is especially true with cherries since according to the Environmental Walking Group, non-organic cherries have the 7th highest amount of pesticide residue of 43 of the most common fruits and vegetables.
When buying cherries, look for plump, firm fruits with the stems still attached. Avoid cherries with cuts or bruises.
| | |
| --- | --- |
| Serving size: | 1 cup, tart cherries, with pits |
Health Benefits
| | |
| --- | --- |
| Heart | Reduce risk of heart disease by lowering blood lipids. |
| Joints | Reduce inflammation that causes painful arthritis. |
| Sleep Cycle | A natural source of melatonin, which helps regulate the sleep cycle. Try eating cherries one hour before bedtime. |
Nutrients