Blackberries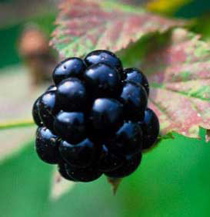 Photo courtesy of geekphilosopher.com
Blackberries are an excellent source of antioxidants, which combat degenerative diseases and signs of aging.
Blackberries grow in tangles of thorny branches that, if not tended to, can easily take over an area. They can be found growing in wooded areas or along the side of city roads. Eating roadside blackberries is not recommended as they contain in a lot of toxins from car exhaust.
When picking blackberries, choose dark, firm berries with large granules, that detach easily from the stems.
| | |
| --- | --- |
| Serving size: | 1 cup whole berries |
| Region: | Temperate northern hemisphere |
Nutrients