Arugula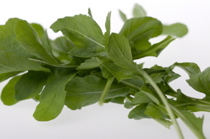 Arugula is a very nutritious leafy green vegetable with an unusual spicy flavor. Like other greens, arugula is most nutritious when eaten raw and should be juiced or well-blended for optimal nutrient digestion and assimilation. Add it to a salad for a spicy kick.
Arugula can be found growing wild all over North America. Wild grown arugula is more nutritious and mineral-dense than store-bought arugula. Younger leaves are more tender and less spicy.
See also Leafy Greens.
| | |
| --- | --- |
| Serving size: | 100 g (5 cups) |
| Region: | Europe, North America |
Nutrients